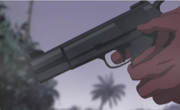 It is a classic pistol, developed by John Browning and adopted by Belgium in 1935. During World War II, the Germans would occupy the Belgian firearms factories and continued to produce this gun, still called the P-35, but with
Waffenamt
stamps. The Design was adopted by other countries and manufactured abroad with the generic designation simply as the "Browning High Power". It has a semi-auto fire system and is capable of firing 13 rounds.
In the Anime
Red Shield agent Rodgers draws a Browning Hi-Power when a Chiropteran jumps on McCoy.
Community content is available under
CC-BY-SA
unless otherwise noted.