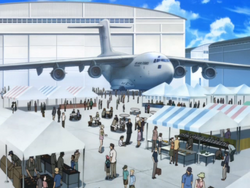 Charlotte Air National Guard Base is the home base of the North Carolina Air National Guard 145th Airlift Wing and is located in Charlotte, North Carolina.
In the Anime
In Episode 42, Diva makes this location the stage for her performance which is obviously a setup so that the audience will turn into chiropterans.
Following the chaos, the base is shown to be in nearly complete ruin in Episode 43, despite the Corpse Corps containing the situation.
Community content is available under
CC-BY-SA
unless otherwise noted.